Transparency in the way we do business is a key value at Suntribe. This means that we want to make it easy for everyone to see the steps we take to develop and produce our products. That's the way we feel it should always be, with everything.
In this section we invite you to explore where the Suntribe products come from. I will take you through how they're made, how we approach the development of our products, and how it all looks like.
You can either use the quick links below to go directly to the topic you are most interested in finding out more about, or simply scroll down the page. Welcome!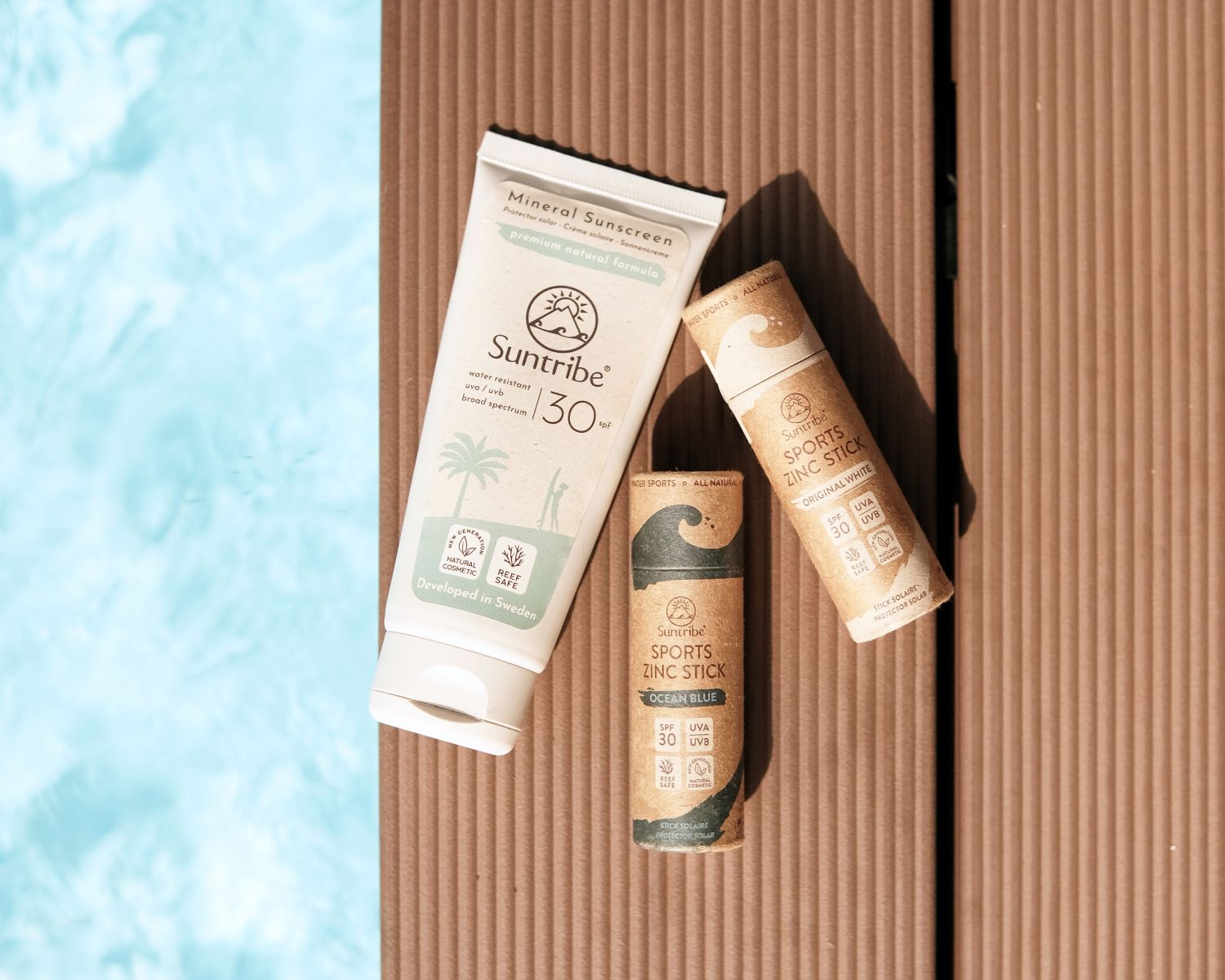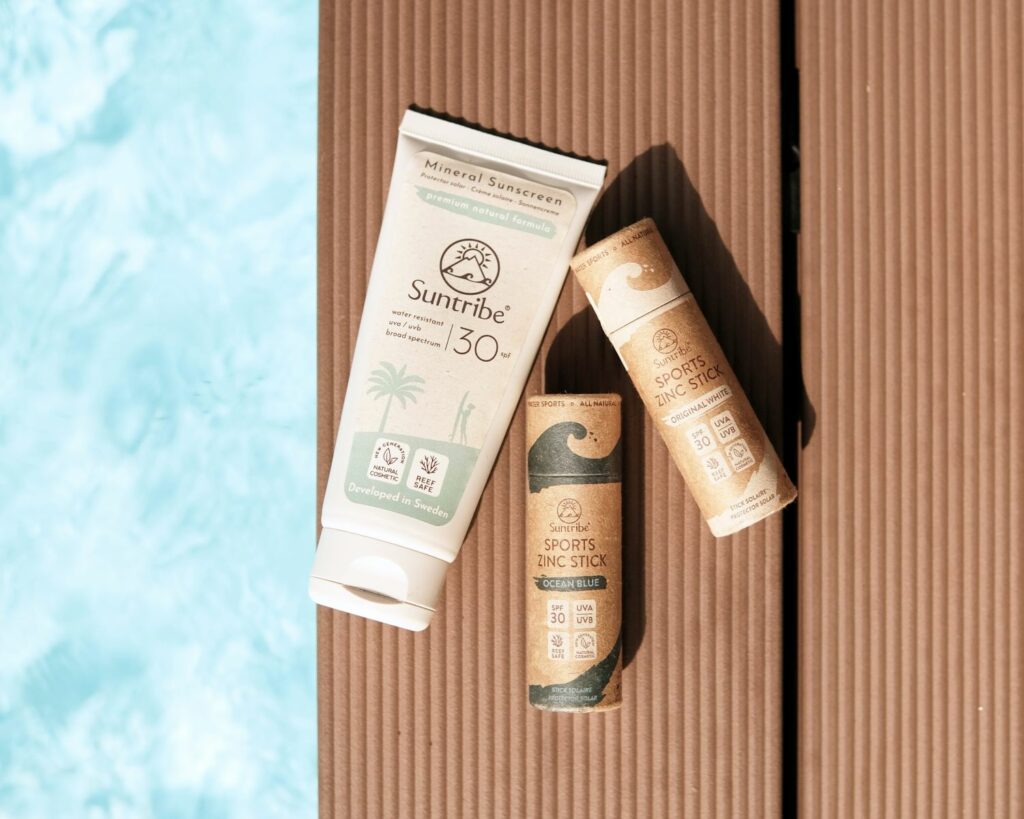 It starts with our production and product development facilities. Suntribe has a GMP & COSMOS Organic certified facility right in the heart of Europe. This allows us to manufacture and develop with confidence.
Even though our ingredient lists are simple, all our products are prepared using natural formulation expertise. We combine the age old arts of wax based formulation with modern innovations like homogenisers. This way we can create natural and traditional formulas, efficient and effective with scientific precision.
As a policy, all our products are completely free from synthetic chemicals, preservatives, microplastics, alcohol and perfumes, and our formulas are also not diluted with any water, meaning that they are pure and highly effective in taking care of your skin. In this video I'd like to show you what the product development areas of our facilities look like. This is where we mix our ideas into reality!
At Suntribe we only use certified high quality ingredients. We also ensure that we source ingredients from the closest geographical location to our European production site. All our organic ingredients are certified by COSMOS Organic,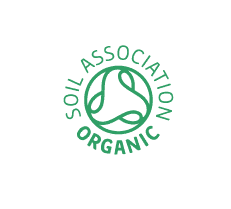 The core of our ingredient philosophy is less is more. The rest is safety and science. We never use any ingredients that have been questioned as to be dangerous for the environment or people. We never use any ingredients that are unnecessary to fulfil the purpose of the product.
But that doesn't mean that we wouldn't use an ingredient just because its purpose is mostly to make the product smell nice. Because we do believe that sometimes there is a purpose to having things in our life come with a lovely scent.
We evaluate ingredients with these methods:
• Peer-reviewed scientific literature. We scan databases on articles relating to studies performed on the ingredient. Here we determine that in our cosmetic context, the ingredient is safe for use both in relation to humans and the environment.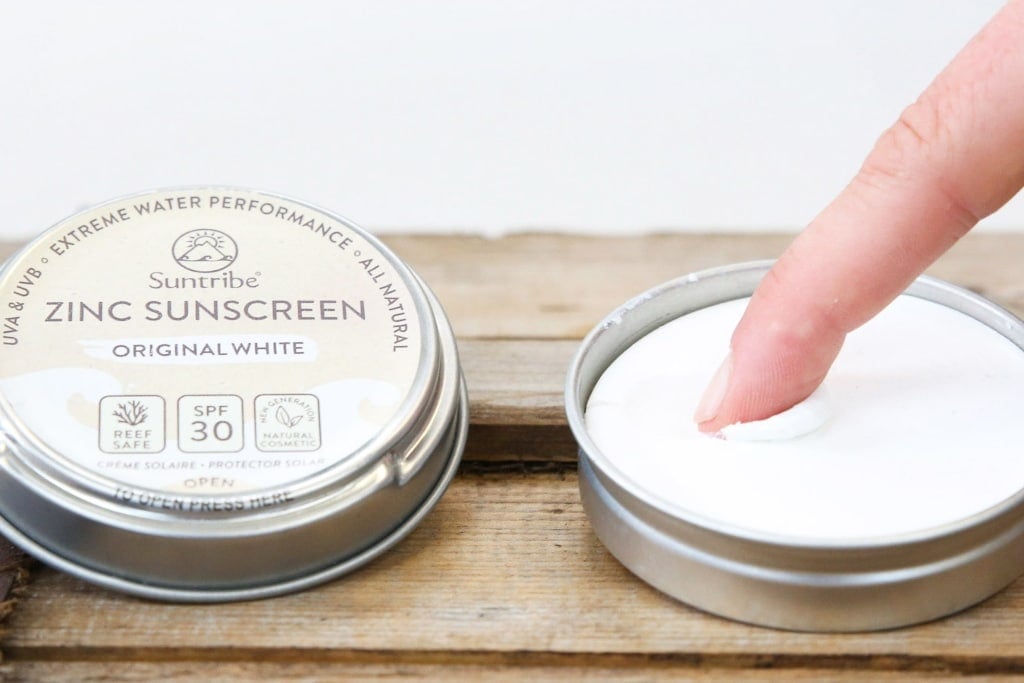 • Databases provided by authorities and regulating agencies. We use the European Union's databases to evaluate all our potential ingredients. Find it here. 
• Databases provided by third party organisations, like environmental groups. As a complementary check, we always run ingredients through convenient and easy to use databases like EWG's ingredient search engine which you can find here. Another resource we use is Cosmetics Info: go to site. We highly recommend trying this for any product or ingredient you are curious about!
• Sustainability. Here, apart from ensuring responsible and fair farming though the ingredient certification, we make sure the ingredients we use can be sustainably sourced (which is why you don't find ingredients such as Soy Wax or Palm Oil in our cosmetics) and try to source from the closest geographical location available.
This process lets us formulate products with peace of mind, and is the starting point for our worry-free products.
In this section I would like to walk you through the process we go through each time we create a sunscreen or skin care product. Above I've shown how we produce and source our ingredients. Here, we'll see how we decide on things like formulas, packaging and how we determine if it's good enough to be a Suntribe product.
As an example, I'm going to use the Suntribe Face & Sport line of products to show how it all works. 
First, let's define what a Suntribe Product is (click on the + to read more):
It all starts with the purpose
Being sports enthusiasts, we noticed that there was no good zinc sunscreen for sports available in Europe. You couldn't find an effective natural alternative. You couldn't find sustainable packaging. You couldn't find verified reef safe and human safe products. And we were noticing that people were starting to ask for it. We had found the purpose.
Now we compose the product. First the ingredients, then the packaging. For our Face & Sport sunscreen, we wanted high efficiency and simplicity. We created the most simple formula composed of the safest ingredients we could find. Then we found a 56% recycled and fully recyclable tin-sheet packaging to fill the sunscreen in.
First is the scientific testing. This is relevant for both the formula and the packaging. The packaging needs to be verified to be able to safely contain and not contaminate the formula for the duration of the shelf life. We do this by sourcing packaging from suppliers who can provide cosmetic safety tests for their packaging.
For the formula it is a matter of SPF / UVA and WATER RESISTANCE testing. First we produce the samples in our production facility, then we send them to independent laboratories in the EU and the US for preliminary tests. In the certifications section below I will show exactly what kind of tests we perform.
Once the products have passed these tests, then we move on to the most fun part. The real world testing!
Here we test both the formula and the packaging, in different places, with different people and in different situations.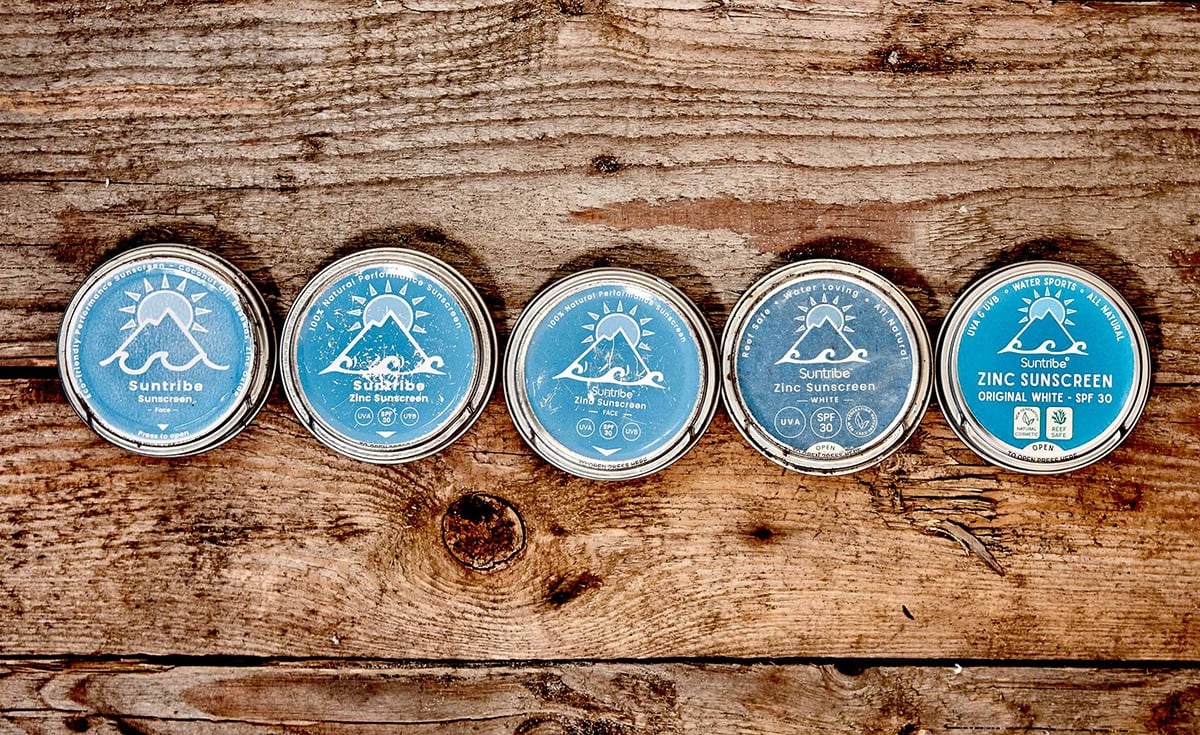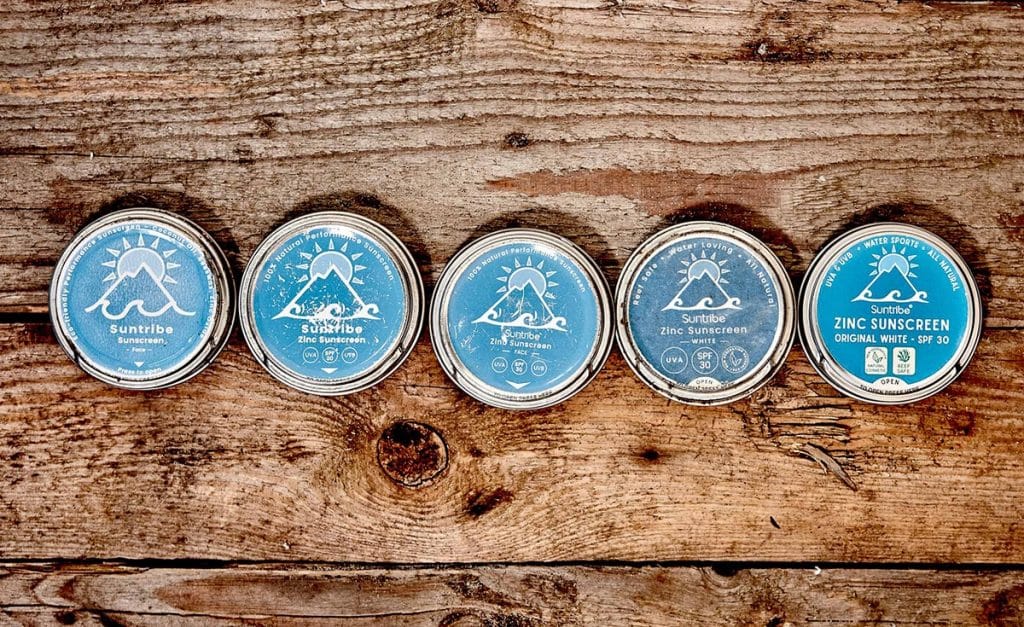 The first Face & Sport original tins we sent to surf teachers, lifeguards, sailors and mountain climbers in Australia, South Africa, Europe and the Americas.
After a few rounds of feedback, we made adjustments to the label and developed a new formula  to meet the needs of our testers, and then we sent that out again.
Here it goes back and forth until we are convinced that our product will work for most people, in most places. 
With the Face & Sport, one of the particular problems was that in cold temperatures, the formula would become too solid and was hard to apply. But we knew that in hot temperatures, the formula was perfect and if made too soft, would lose functionality and water resistance. We found a compromise by sourcing a softer version of beeswax, which made it softer in cold temperatures, but still retained the functionality and water resistance in hot temperatures.
Here's a video of Suntribe Co-founder Karl when he tests the water resistance capabilities of the new Face & Sport formula in tropical Costa Rica:
After years of tests we found that we couldn't make a formula that was perfect for all temperatures. The formula still gets quite solid when it's cold, but perfect when warm/tropical. So we chose this compromise as it would be appropriate for most users. Most rewards (highly water resistant formula) with least risks (no mess or loss of functionality in hot/tropical temperatures).
At Suntribe we know the importance of quality control and consistent product quality. Natural ingredients, wonderful as they are, are dynamic. They change from year to year and season to season and are highly susceptible to changes in temperature. So it's important to constantly keep a waking eye on the formulas and ensure there are no major variations between different production batches.
We quality control all the batches that we produce. We keep several samples of each batch, conduct testing to establish the shelf life of each product and monitor the behaviour of the sample products over time. Among other things we heat and freeze the product to test its stability in extreme temperatures.
Result: The Worry-Free Suntribe Product
After the real-world tests are completed, and the final formula has passed the full testing in the laboratory, the product is ready to be launched as a worry-free Suntribe product.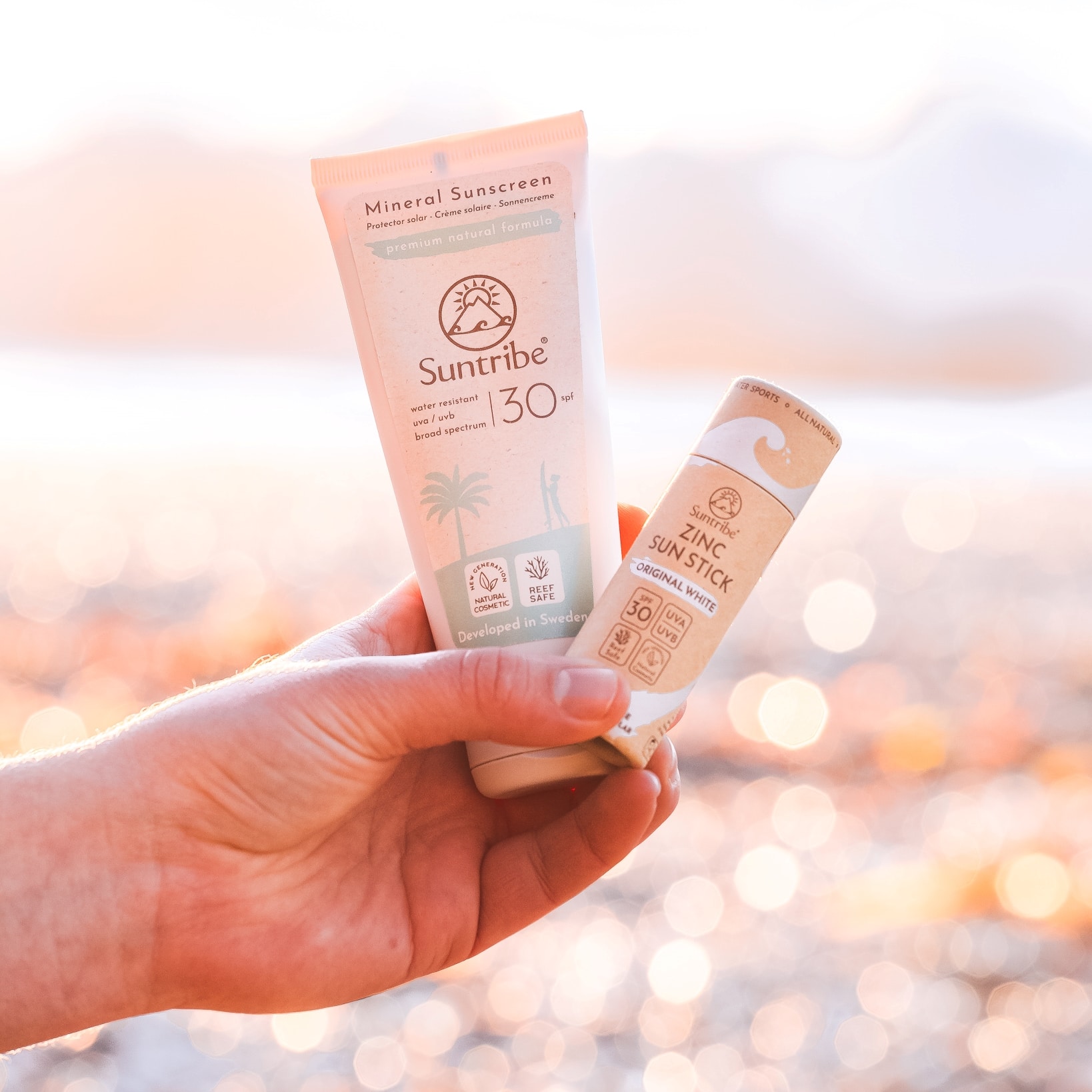 4. Labels and Printed Material
We use labels printed on 100% recycled paper and use ink of the highest ecological grade. After long research (and trying out many suppliers) we have now found a supplier that is both close to our manufacturing site and offers closed-loop label production, meaning that waste from the label production process is recycled to directly be used again in the production process of new labels. Here's a short video bringing you closer to Suntribe's production facilities in the EU:
All other printed materials (such as brochures, business cards etc) are printed on recycled and Nordic Swan ecologically certified paper from sustainable sources. At our office we don't even have a printer, we are fully digital and only print when it's absolutely needed!
5. Sunscreen Certifications
At Suntribe we believe that nothing speaks the truth like science. This is why we are proud to talk about our certifications. We have certified all our sunscreens according to the ISO standards set by the European Union. These tests involve sending sunscreens to independent laboratories, where they are tested both on people and with technical methods. 
• All Suntribe products marked with SPF have conducted an ISO 24444 test – the official standard for Sun Protection Factor (SPF/UVB).
 • All Suntribe products marked with the UVA symbol have conducted an ISO 24443 test – the official standard for UVA / Critical Wave Length testing. 
• All Suntribe products marked with Water Resistant or Very Water Resistant have performed the ISO 24444 test with water immersion according to COLIPA guidelines . 
• All Suntribe products have performed a cosmetic safety assessment as detailed in the EU legislation (Regulation (EC) No 1223/2009)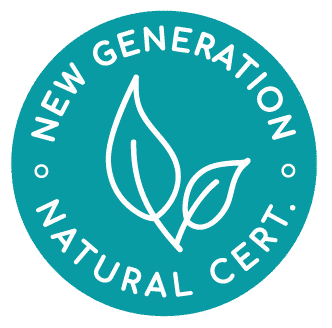 Organic & Sustainability Certifications
At Suntribe we always use the highest percentage of organic ingredients possible, and some of our products are 100% organic (such as our All Natural Body Butters). All our organic ingredients are certified by either COSMOS Organic or EcoCert. 
In addition, all of Suntribe's products are certified with the Scandinavian certifier New Generation Cert. The New Generation Cert. guarantees that Suntribe is a company that strives for a bright and sustainable future in all ways of our business.
Apart from being one of the strictest certifications in terms of ingredients (organic, sustainably sourced, complete exclusion of certain questionable ingredients such as Palm Oil) it helps the participating companies to become more sustainable and transparent when it comes to the holistic mission of the company.
It is an all-encompassing approach which fits very well with the Suntribe way of thinking.
As Suntribe grows, so does our impact on the environment. We know that an efficient logistics and distribution system is a key to minimising the environmental impact from our products. Here's what we've done so far.
In our current operation, we can send parcels from national warehouses to private customers in 6 EU countries: Sweden, Germany, UK, Spain, France and Italy. This means we send large batches of products to warehouses in each country, where the single products are then shipped from. This is one step to reducing our impact.
Another step is that we handle all larger orders directly from our factory. That means that we have no middle-man warehouse and the products go directly from factory to the wholesale or distributing partner.
When it comes to the shipping packaging used to send out orders to private customers, we reuse packaging materials, use as little packaging as possible and use plastic-free packaging materials whenever possible.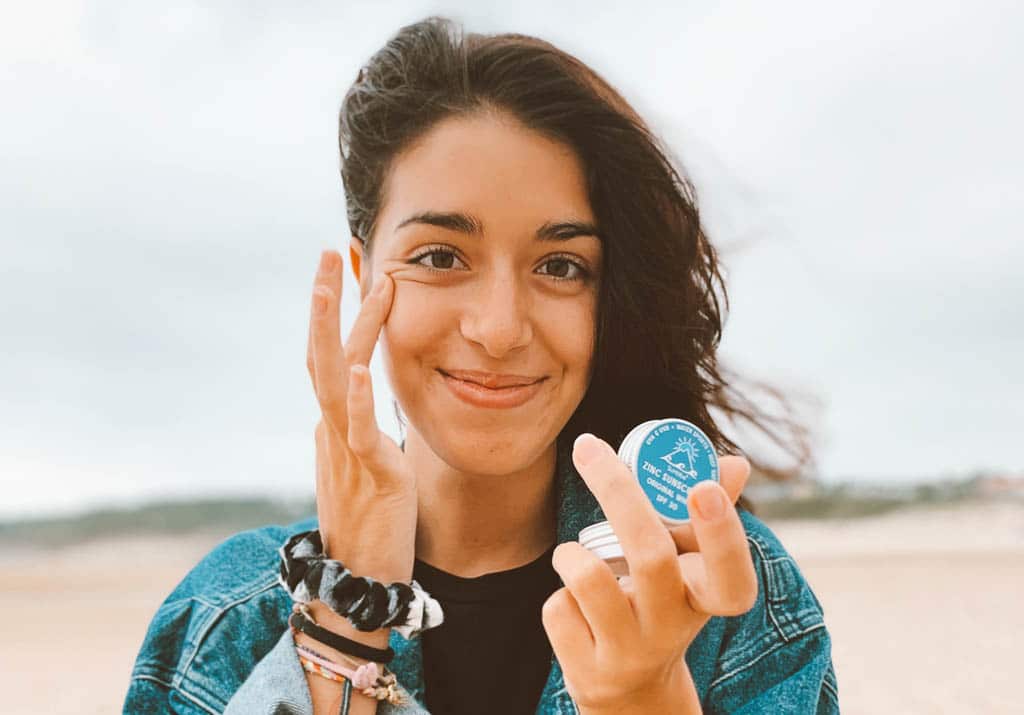 The Result: Worry-free Natural Cosmetics
So there you have it. The recipe that we use to create our worry-free products. All the way from finding a need, and creating a product with purpose, to making sure that purpose is fulfilled today and in the future. You can find our full selection of products in the shop: 
Is there anything we missed that you would have liked to know more about? Is there anything here that made you happy or sad, or maybe even upset, and you'd like to give us feedback? Our company is nothing without your feedback and opinions. Please don't hesitate to contact us through the contact form below: